Certified (Level 2)
LIVE ONLINE - TOGAF® 9 Training Course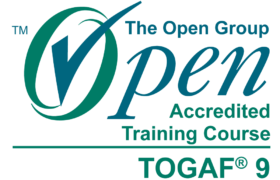 During the 5-days Training  Course participants will learn how to apply TOGAF® 9 Framework in to manage the enterprise architectures.
The workshop has two parts. First covers the fundamental knowledge about the enterprise architecture and TOGAF framework and the second is simulation of architecture project. During simulation attendees make decisions and create architectural deliverables. Thanks that approach every attendee gain deep understanding of the TOGAF® approach.
The this workshop provide sufficient guidance to pass The Open Group® TOGAF® 9  2 Exam. All participants as part of training materials will receive the exam preparation guide and vouchers for the exam.
Training Agenda
MONDAY (6PM - 8PM)
- Establishing Architecture Capability
- Enterprise Architecture
TUESDAY ( 6PM - 9PM)
- Vision and Planning
- Business Architecture
- Data Architecture
WEDNESDAY (6PM - 9PM)
- Application Architecture
- Technology Architecture
- Opportunities and solution
THURSDAY (6PM - 8PM)
- Implementation planning
- Implementation governance
- Architecture Change Management
FRIDAY (6PM - 9PM)
- TOGAF and Risk Management
- Service Oriented Architecture
- Workshop Summary
FEATURES
Course Characteristics